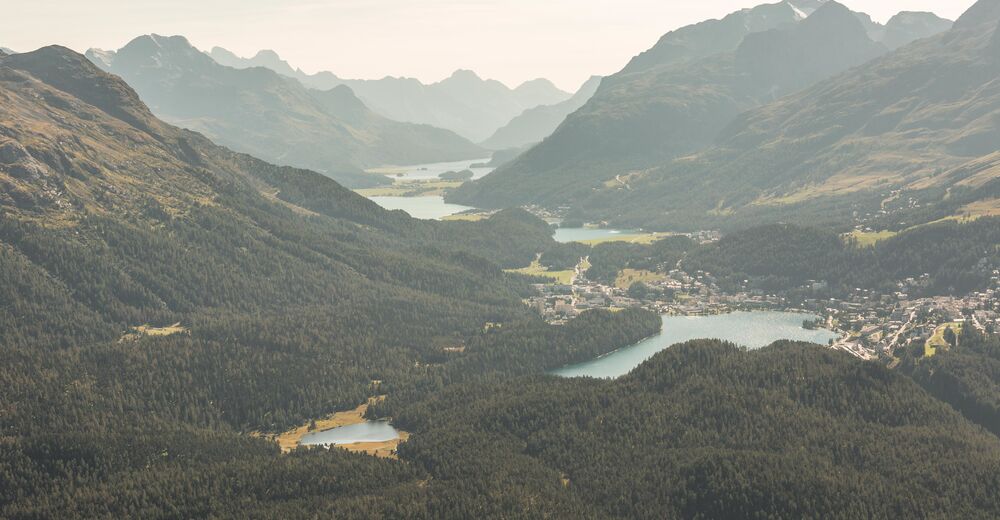 Inspiring Nature
*The longing to experience authentic nature and the inspiration we derive from it link us all, no matter where we come from. Hardly any holiday destination offers its guests such an impressive natural setting as Engadin St. Moritz. Sparkling lakes and mighty glaciers frame tranquil forests of Swiss stone pine and larch that turn golden in the autumn; the special quality of the light invariably charms visitors. This makes a truly inspiring backdrop for unforgettable walks and mountain bike riders – as well as for blissful relaxation.
Visitors enjoy a particularly powerful experience of nature with the "Bernina Glaciers" adventure. Three key elements – glaciers, energy and time – are the focus of a range of attractions and adventures in nature. Combine them with a hike along the long-distance trail, "Round the Bernina", which leads in stages around the Piz Bernina, capped with snow all year. As you explore, take advantage of the countless attractive and original accommodation options, along with an endless variety of footpaths, bike trails and gourmet treats.
You can experience these inspiring Alpine landscapes simply and inexpensively with our attractive offer "Mountain railways and cableways included". If you book more than one night at any of participating hotels, you receive a pass, free of charge for travel on up to 13 funiculars, cable cars, gondolas and chair lifts that operate in summer in Engadin St. Moritz.
Our exceptional range of attractions and facilities – from high-class cultural and sporting events to thrilling leisure activities and a vast choice of restaurants hotels and holiday homes – complete the holiday experience. All this makes the enchanting high valley of the Engadin a holiday destination that cannot be beaten for sheer wealth of contrasts.
Discover the inspiring variety of the Engadin St. Moritz region for yourself and enjoy an unforgettable holiday – whatever your budget!
---
---
Nasveti za prosti čas Engadin St. Moritz
Prikaži vse nasvete za prosti čas
---
Pišite na Engadin St. Moritz

Engadin St. Moritz Tourismus AG
Via Maistra 1, CH-7500 St. Moritz
Telefon

Faks

Domača stran
E-Mail
Zahtevek und Naročilo brošure Namestitev
Gorske železnice Poletno delovanje

Namestitev Engadin St. Moritz
14 Hoteli, Počitniška stanovanja...

Športni dobavitelj Engadin St. Moritz
Ponudbe und Paketi Engadin St. Moritz
Spletne kamere