Tek na smučeh
Annaberg - Lungötz - Dachstein West
850 - 1.000m
Annaberg-Lungötz, skiregion Dachstein-West, is surrounded by the beautiful mountains of the "Salzburg Dolomites" (like the Gosaukamm with the distinctive Bischosmütze) in the upper Lammertal.
For all those who love calmness and a sport, good for body and soul, the cross country trails will await you: skiing and nature in the Lammertal and the Postalm - Austria's highest mountain pasture - offer 130 km of groomed trails in the sun. Unimagined mountain vistas and peaks scenes are revealed, and both connoisseurs, cozy ski hikers and athletic skiers get on their costs.
All trail entrance points are accessible by the ski bus: The bus utilization of the ski bus in the Lammertal is free for holders of the guest card Annaberg-Lungötz.
TIP: floodlit track in Lammertal!
The 10 km long Neubachtalloipe in Lungötz was already awarded and offers changing facilities.
A particular treat is the floodlit track. A 2.5 km loop (area parking Wieseralm to Koppensaufeld) brings enjoyment in the evening hours. Perfectly lit, turn your rounds of twilight from dawn to 9 p.m.!
---
Cene
Take advantage of this wonderful offer and help maintain the infrastructure by purchasing the ticket "Loipenfuchs". Daily fee € 3.00 (€ 2.50 with guest card) directly at the start of the cross-country ski trail, ticket available from the Annaberg tourist office and from SportProfi (ski rental) in Lungötz.
Weekly ticket: € 10.00
Season ticket adults: € 40.00
Family season ticket: 65.00
Season ticket 15 - 18 years: 20.00 €
Guests with the Annaberg-Lungötz guest card receive the ticket from the landlord.
Thank you very much!
---
Postajališča za osvežitev
Neubachtalloipe:
Gasthof Schichlreit im Neubachtal, Tel. +43 6463 7056 (momentan geschlossen)
Lammertalloipe und Aualmloipe:
Alpengasthof Lämmerhof +43 6463 7141 oder Gasthof Wildau +43 6463 7129 (beide momentan geschlossen)
---
Videos
---
Aktualne informacije o tekaških progah
Spletna stran

E-Mail

Telefon

+43 (0)6463 8690
Loipen Pregled
3
klasične poti
23 km
Neubachloipe Aualmloipe Lammertalloipe
2
Drsalne steze
12.5 km
Neubachloipe Flutlichtloipe ab Parkplatz Wieseralm
1
Osvetljene poti
2.4 km
Neubachloipe täglich ab Dämmerung bis 21.00 Uhr. (ab Parkplatz Wieseralm - Umkleideraum vorhanden)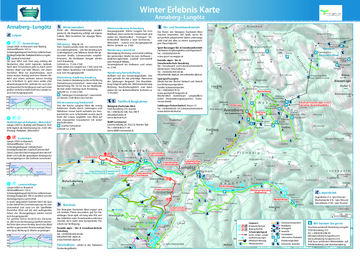 Diverses
Najem
Sportprofi Lungötz, Tel. 06463 7852
Smuči za tek na smučeh Storitev
Sportprofi, Tel. 06463 7852
Pišite na Turistični urad
TVB Annaberg-Lungötz
Naslov

Nr. 215, A-5524 Annaberg-Lungötz

Telefon

+43 (0)6463 8690

Faks

+43 (0)6463 600 15

E-Mail

Homepage
Najbolj priljubljene regije za tek na smučeh