Trenutne informacijeNed, 03.12., 09:51
Dvigala
Delovne ure Zima
Sezona

02.12.2023 - 31.03.2024

Operacija

08:30 - 15:30
Strmine
Začetniki

k.A.

enostavno

5,3 km (13)

srednja

5,9 km (4)

težko

0,1 km (1)

skupaj

11,3 km
Inovacije
ENDLESS "SEASON PASS" IS NOT JUST FOR SKIING
For all those visitors who, instead of wasting time queuing to buy a ticket, want to head straight to the slopes, we have a unique offer for you – the "endless season pass". That's right, endless, because it does not end with the end of the winter season! With our season pass, you will now be able to use the cable car to Nová hoľa even during the entire summer season of 2024!
And that's not all, with our endless season pass you can ski almost endlessly long on day time and evening skiing in Záhradiště, every day without restrictions and exclusions, from the first to the last day of the winter season, even 12 hours a day.
Favorite evening skiing
Evening skiing has been very popular for several seasons, not only for holidaymakers already staying in the resort in Donovaly, but skiers from the surrounding area also like to come skiing after work.
We embarked on a more significant modernisation which will ensure even better and especially more environmentally friendly lighting of the main ski slope in Záhradiště and also on the ski slope at the Lomená poma ski lift. More than 2 kilometres of slope will be lit up by modern LED lighting technology, which, besides being less energy-intensive and more environmentally friendly, are much more efficient and effective. Of course, the safety of our visitors is paramount for us. More light also means more safety during evening skiing, which visitors will be able to enjoy as in previous seasons from Christmas until the end of the spring holidays in early March every day from dusk until 8 pm.
Modern après ski bars right on the slopes
Great skiing goes hand in hand with quality additional services and restaurant facilities on and off the slope. A popular stop for all skiers at the lower station of the cable car to Nová hoľa is the après ski Husky bar. The enlarged bar and the new terrace now offer more than 60 new seats at tables or in the cosy lounge area.
Another modern après ski bar is located near the 4-seater cable car in Záhradiště, where you can find new Bistro Záhradište as well.
In addition to quality coffee and tasty cakes, skiers will be able to enjoy small snacks and light refreshments in both bars while taking a break from skiing .... Quality alcoholic and soft drinks, good beer or draught Kofola are a matter of course in both après ski bars.
The pleasant atmosphere will be ensured by high-quality reproduced music from modern sound systems from ...
All our loyal visitors, owners of the "endless season", can look forward to a gift in the form of a 20% discount on their food and drinks consumed when you dine at any of the two après ski bars, Bistro Záhradište or Chata Pod Magurou upon presentation of a chip card with a ski pass.
---
Smučišče
A big park and even bigger dreams, that is PARK SNOW Donovaly!
Excellent skiing conditions on perfectly groomed slopes and tracks for slalom, downhill, cross-country or the ever increasingly popular snowboarding. Ski slopes, at 900 - 1,361 metres above sea level with a total length of 11 km, are honed with snow cannons and perfectly prepared for skiers of every age group.
Don't miss out on the chance to try nighttime skiing or get a bird's eye view of Donovaly by paragliding. If you are drawn to freeride or freestyle with its rails, jumps and other obstacles, then we've got our snowboard park just for you. Or do you want to skate, or go sledging, or try a ride in a dog-sledge or horse drawn sleigh, or go bowling, or stay indoors and ski on a trainer? Absolutely no problem here in Donovaly!
And then in summer, Donovaly changes into an oasis of calm, ideal for relaxing, or an active rest for hikers and cyclists in the breathtaking countryside of the Low Tatra and Large Fatra National Parks.
So don't be afraid and give your dreams free rein whatever the time of year…
Pišite na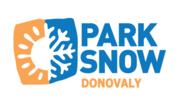 PARK SNOW Donovaly
Pod Magurou 801, SK-976 39 Donovaly
Telefon

Magnetni telefon

Domača stran
Poizvedbe
Spletne kamere
Najbolj priljubljena smučišča