© Lorenz Masser
© Lorenz Masser
© Lorenz Masser
© Carmen Huter
© Carmen Huter
© Lorenz Masser
© Carmen Huter
© Lorenz Masser
© Carmen Huter
Hotel

100 Betten, 70 Soba

Familie Herbst
Pole position for active pleasure holidaymakers at Riederalm - your Good Life Resort Leogang
Nestled between the rugged Leoganger Steinberge mountains and the green crests of the Pinzgau Grasberge mountains, Hotel Riederalm is located right next to the valley station of the Leoganger Bergbahnen cable cars and the Epic Bikepark Leogang. This makes the family-run hotel an ideal starting point to explore this wonderful hiking, climbing and biking paradise.
Whether you are a downhiller, mountain biker or pleasure cyclist - our house is the ideal starting point for all bike lovers. Hikers and mountain climbers will find optimal tours of all levels of difficulty and for golf enthusiasts there are 10 beautiful golf courses in our area (all reachable within 1 hour).
Vacation pleasures at the Riederalm
- PURE PLEASURE - LIVED REGIONALITY
"The Epic Slow Food Leogang" is how chef Andreas Herbst describes his alpine style of cooking, which delights with modern interpretations of traditional classics. Local delicacies in innovative preparation and exquisite gourmet cuisine with Pinzgau nuances characterise the dishes.
Riederalm gourmet 3/4 board (fantastic gourmet breakfast buffet, Alpine buffet in the afternoon, 5-course gourmet menu in the evening), various weekly highlights such as our gala dinner, kitchen party, wine tour, Kaiserschmarrn afternoon,...
*- AMBIENTE & GOOD LIFE LIVING
Good Life Feeling - cosiness meets pleasure in a stylish ambience
Wine cellar "Weinblick" with a refined selection of Austrian and international wines - always worth a visit.
Stylish restaurants & parlours offer the perfect setting for your culinary holiday - charming service included.
The cosy Good Life Bar offers an extensive selection of spirits, unique cocktails and homemade delicacies.
- IMMERSE YOURSELF - PURE WATER FUN & WELLNESS.
In our Mountain SPA you can enjoy Wellness Deluxe. This area is exclusively for adults and offers tranquillity, rest and relaxation - everywhere with the magnificent view of the Leoganger Steinberge mountains.
Leogang's first thermal pool (with indoor access, 20 m long and a cosy 33 °C) with the finest regional healing water from St. Martin/ Lofer.
Glacier ice" plunge pool
6 saunas & sweat attractions
Wonderful rest & relaxation areas
Kneipp crystal garden with relaxation garden
*Pinzgau Water Festival
Water pleasures & wellness enjoyment for all generations
Panorama indoor pool "Der Bergsee" with swimming sluice to the sports outdoor pool with 20 m length
The waterfall - the adventure water slide for young & old
Paddling pool
Dress-On-Sauna
Relax-summer meadow
- ACTIVE - UNIQUE NATURE EXPERIENCES
Summer enjoyment - from spring to autumn
Hiking & mountain holidays at their best, with weekly guided house hikes with Friedl Herbst and many other highlights
Bike Eldorado Leogang: for pleasure cyclists, mountain bikers & downhillers with countless highlights and discounts
Golf enjoyment in front of a magnificent backdrop
*- FAMILY - CREATING MEMORIES TOGETHER
A real family holiday - good life feeling for all generations, that's exactly what you can enjoy at the Riederalm. To ensure that our younger guests feel completely at ease, we offer a varied range of activities that will make children's hearts beat faster.
Children enjoy the beautiful adventure play park with children's traffic park with CatCars and MoonHarleys, climbing igloo, mini flying fox, 3 giant trampolines, swings, slide, mini alpine pasture, indoor games rooms and much more.
*- AT HOME WITH THE FAMILY AUTUMN
The special family hotel in Leogang awaits you! The Herbst family with Elfi and Friedl, son Thomas with Hanneke and son Andreas with his wife Andrea and their three children Juliana, Laurenz and Frida are looking forward to your visit! A place to blossom in the midst of the magnificent mountain world of the Pinzgau, in the heart of the Alps. Because home is where you come from. Where you were born. But home with the Herbst family also has a lot to do with a feeling of security. Home is a place where the inner voice says: I have arrived.
Oprema
Brezžični LAN
Balkon/terasa
Igrišče
domače živali so dovoljene
Parkirna mesta
Bazen
Soba za nekadilce
Wellness območje
Prikaži vse funkcije
Soba/Stanovanja

Wohnkomfort-Doppelzimmer Baumtraum
Double Room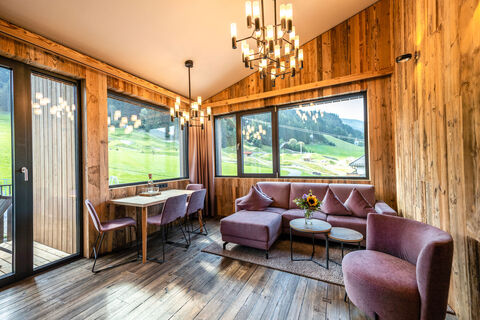 Family Suite deluxe Leogang
Family Room

Luxury Spa Penthouse Leogang
Suite

Panorama room deluxe
Double Room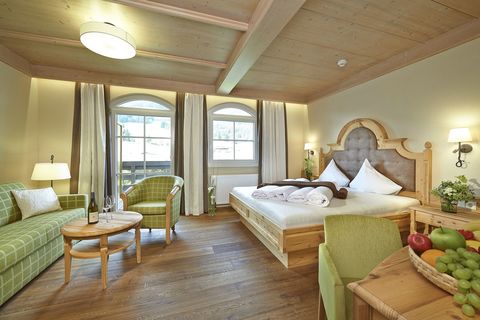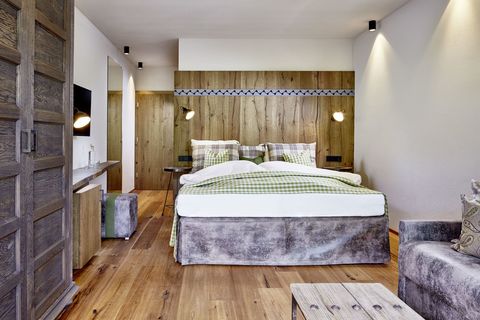 "Die Pinzgauerin"
Double Room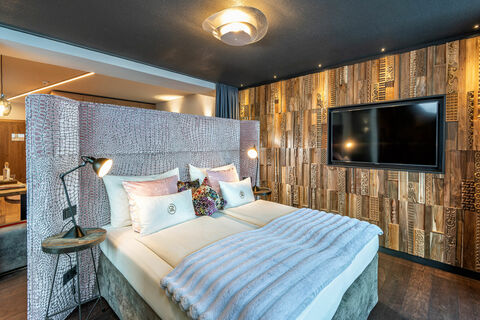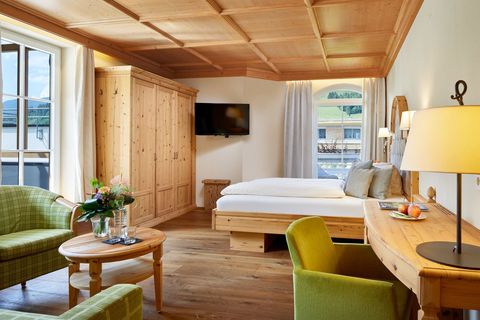 "Der Pinzgauer"
Junior Suite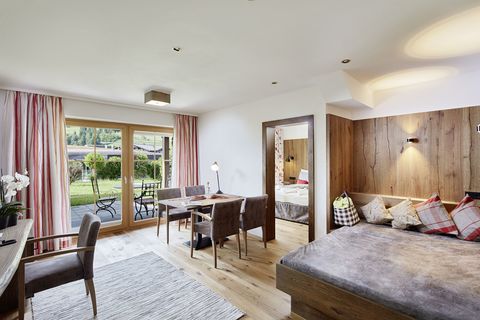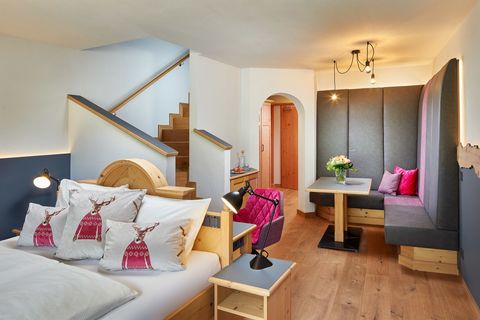 Family Studio "Stoaberg"
Suite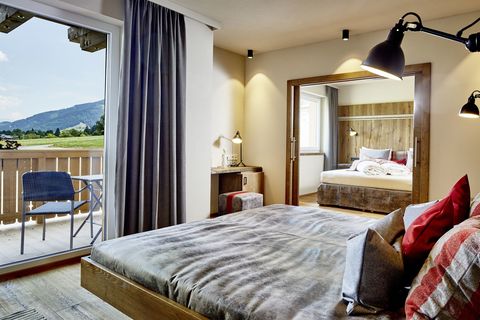 The good life suite
Suite
Razpoložljivost
na zahtevo
na voljo
zaprta
pokaži več
Ponudbe Poletje
Posebna ponudba / Pavšali užitka / Kratke počitnice
Velja von 01.01.2022 bis 01.01.2025
Cene
Luxury Spa Penthouse Leogang (Suite)
profesionalna oseba / na noč
| Polpenzion
Lokalni davek
profesionalna oseba / na noč
0 - 14 Leta vključeno
ab 15 Leta + 2,00 €
Family Suite deluxe Leogang (Family Room)
profesionalna oseba / na noč
| Polpenzion
Lokalni davek
profesionalna oseba / na noč
0 - 14 Leta vključeno
ab 15 Leta + 2,00 €
Wohnkomfort-Doppelzimmer Baumtraum (Double Room)
profesionalna oseba / na noč
| Polpenzion
Lokalni davek
profesionalna oseba / na noč
0 - 14 Leta vključeno
ab 15 Leta + 2,00 €
Panorama room deluxe (Double Room)
profesionalna oseba / na noč
| Polpenzion
Lokalni davek
profesionalna oseba / na noč
0 - 14 Leta vključeno
ab 15 Leta + 2,00 €
"Heimat" (Double Room)
profesionalna oseba / na noč
| Polpenzion
Lokalni davek
profesionalna oseba / na noč
0 - 14 Leta vključeno
ab 15 Leta + 2,00 €
"Die Pinzgauerin" (Double Room)
profesionalna oseba / na noč
| Polpenzion
Lokalni davek
profesionalna oseba / na noč
0 - 14 Leta vključeno
ab 15 Leta + 2,00 €
"Spielberg" (Double Room)
profesionalna oseba / na noč
| Polpenzion
Lokalni davek
profesionalna oseba / na noč
0 - 14 Leta vključeno
ab 15 Leta + 2,00 €
"Alpenglühen" (Suite)
profesionalna oseba / na noč
| Polpenzion
Lokalni davek
profesionalna oseba / na noč
0 - 14 Leta vključeno
ab 15 Leta + 2,00 €
Almfeuer (Junior Suite)
profesionalna oseba / na noč
| Polpenzion
Lokalni davek
profesionalna oseba / na noč
0 - 14 Leta vključeno
ab 15 Leta + 2,00 €
"Bergglück" (Junior Suite)
profesionalna oseba / na noč
| Polpenzion
Lokalni davek
profesionalna oseba / na noč
0 - 14 Leta vključeno
ab 15 Leta + 2,00 €
"Der Pinzgauer" (Junior Suite)
profesionalna oseba / na noč
| Polpenzion
Lokalni davek
profesionalna oseba / na noč
0 - 14 Leta vključeno
ab 15 Leta + 2,00 €
"Spielberg" (Junior Suite)
profesionalna oseba / na noč
| Polpenzion
Lokalni davek
profesionalna oseba / na noč
0 - 14 Leta vključeno
ab 15 Leta + 2,00 €
Family Studio "Stoaberg" (Suite)
profesionalna oseba / na noč
| Polpenzion
Lokalni davek
profesionalna oseba / na noč
0 - 14 Leta vključeno
ab 15 Leta + 2,00 €
"Himmelreich" (Suite)
profesionalna oseba / na noč
| Polpenzion
Lokalni davek
profesionalna oseba / na noč
0 - 14 Leta vključeno
ab 15 Leta + 2,00 €
"Landleben" (Suite)
profesionalna oseba / na noč
| Polpenzion
Lokalni davek
profesionalna oseba / na noč
0 - 14 Leta vključeno
ab 15 Leta + 2,00 €
"Der Salzburger" (Suite)
profesionalna oseba / na noč
| Polpenzion
Lokalni davek
profesionalna oseba / na noč
0 - 14 Leta vključeno
ab 15 Leta + 2,00 €
The good life suite (Suite)
profesionalna oseba / na noč
| Polpenzion
Lokalni davek
profesionalna oseba / na noč
0 - 14 Leta vključeno
ab 15 Leta + 2,00 €
Načini plačila
Cash, bank Transfer, EC-bank-Card, VISA, MasterCard
Opombe
Our Riederalm "Good Life" inclusives:
Riederalm-gourmet- comfort board (breakfast buffet, afternoon snack, 5-courses dinner with 4 main courses to choose in the evening)
Use of our Wellness area - 2.000 m²
Use of our deep-level-garage
all our Riederalm-facilities
Saalfelden Leogang Card with many benefits
Prices excl. local tax of € 2,00 per night
Hotel

100 Betten, 70 Soba

Familie Herbst
Najbolj priljubljene regije