Počitniško stanovanje / Chalet

20 Betten, 6 Stanovanja

Familie Messner

Fiechtersiedlung 245, 6215 Achenkirch am Achensee
Welcome!
Purism & living perfection during your holidays, an array of feel-good moments at your personal retreat, each and every instant of these, the most valuable days of your entire year, relished to the fullest.
Enjoy time spent within your own family circle and a well-deserved getaway.
This is precisely why we created our PUREST refuge in Achenkirch.
Our new apartment resort is surrounded by the glorious nature of Tyrol: meadows, forests, rugged Alpine peaks, and the incomparable Achensee itself. In summer as well as winter, our guests draw renewed strength from this beautiful region which we are indeed so fortunate to call our home; finding the tranquility they long for, and at the same time rediscovering their inner self. Big and small are greeted by a virtually inexhaustible selection of holiday activities on and around the lake. Explore nature during scenic hikes to remarkable destinations, or perhaps circle Achensee by e-bike. Dare to leap into the lake, treat yourself to a boat ride, or climb to dizzying heights in the Outdoor Park. Golfers and tennis stars are thrilled by our proximity to the 9-hole Achensee championship golf course as well as a big tennis center with 3 clay courts.
Soba/Stanovanja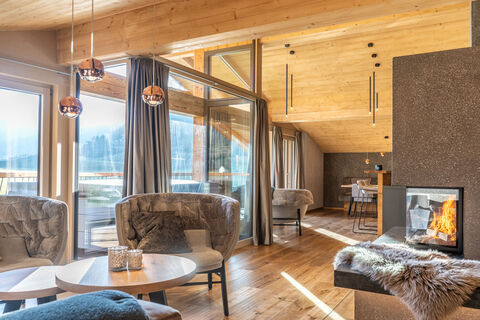 PUREST Penthouse
Penthouse Apartment

PUREST Paradise
Apartment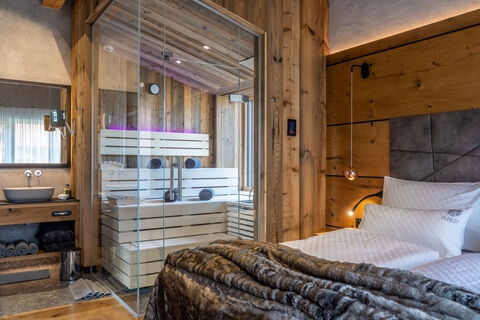 PUREST Happiness
Apartment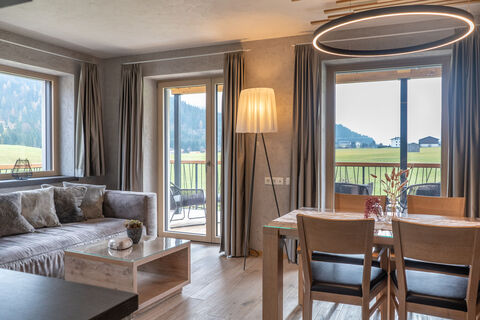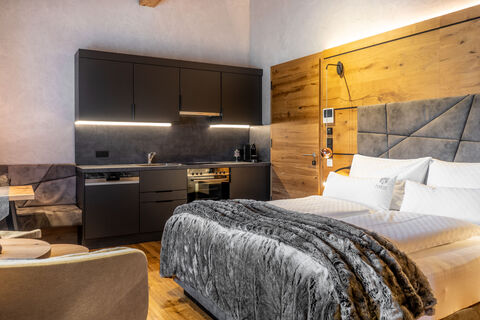 Videoposnetki
00:20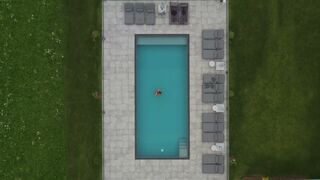 00:38
Dear guests,
please read the description of the suites carefully, as the equipment varies greatly depending on the category. Furthermore, we would like to inform you that our outdoor infinity pool is open to all guests of the house and is heated from the beginning of May to the end of October. Please note that our resort does not have a shared sauna area. For questions or requests, we are at your disposal at any time. We look forward to welcoming you!
Sincerely, yours family Messner and the entire PUREST team
pokaži več
Ponudbe Poletje
Aktivne počitnice / Kolesarske ture / Kolesarski dopust
Velja von 01.09.2023 bis 30.11.2023
Aktivne počitnice / Kopalni dopust / Adventure vacation
Velja von 01.09.2023 bis 30.11.2023
Posebna ponudba / Romantične počitnice / Pavšali užitka
Velja von 01.09.2023 bis 17.12.2023
pokaži več
Ponudbe Zima
Posebna ponudba / Romantične počitnice / Pavšali užitka
Velja von 01.09.2023 bis 17.12.2023
Cene
PUREST Penthouse
(Penthouse Apartment)
na enoto / na noč
| Brez cateringa
Lokalni davek
profesionalna oseba / na noč
Otroške posteljice
:
Baby cot
PUREST Paradise
(Apartment)
na enoto / na noč
| Brez cateringa
Lokalni davek
profesionalna oseba / na noč
Otroške posteljice
:
Baby cot
PUREST Harmony
(Apartment)
na enoto / na noč
| Brez cateringa
Lokalni davek
profesionalna oseba / na noč
Otroške posteljice
:
Baby cot
PUREST Happiness
(Apartment)
na enoto / na noč
| Brez cateringa
Lokalni davek
profesionalna oseba / na noč
Otroške posteljice
:
Baby cot
PUREST Passion
(Apartment)
na enoto / na noč
| Brez cateringa
Lokalni davek
profesionalna oseba / na noč
Otroške posteljice
:
Baby cot
na enoto / na noč
| Brez cateringa
Lokalni davek
profesionalna oseba / na noč
Otroške posteljice
:
Baby cot
Počitniško stanovanje / Chalet

20 Betten, 6 Stanovanja

Familie Messner

Fiechtersiedlung 245, 6215 Achenkirch am Achensee