© (C)Foto Mario Lebesm - Foto Lebesm
© (C)Foto Mario Lebesm - Foto Lebesm
© (C)Foto Mario Lebesm - Foto Lebesm
© (C)Foto Mario Lebesm - Foto Lebesm
© (C)Foto Mario Lebesm - Foto Lebesm
© (C)Foto Mario Lebesm - Foto Lebesm
© (C)Foto Mario Lebesm - Foto Lebesm
Hotel

90 Betten, 45 Soba

Familie Ewald Netzer

Außerlitzstraße 80, 6780 Schruns
The Vitalquelle ****S - nature, wellness & pure enjoyment
The HotSpot for all connoisseurs in the Montafon
Surrounded by a breathtaking landscape with a view of the Montafon mountains, the 4-star superior Hotel Vitalquelle impresses with excellent gourmet cuisine, idyllic outdoor facilities with a large natural bathing lake, a spacious wellness area with a panoramic swimming pool, elegant suites and stylish rooms.
So good and easy to reach:
The village of Schruns is located in the center of the Montafon, just 12 kilometers from the motorway exit. Your ideal starting point: experience the Alps up close - the scenery around the vital spring offers countless possibilities for all activities and experiences.
Location, location, location:
Enjoy the breathtaking mountain panorama during breakfast and move freely through our spacious, high-quality ambience throughout the hotel resort.
Montafon natural paradise:
1,161 km of beautiful hiking trails, 860 km of breathtaking mountain bike tours and an incredible mountain panorama await you right outside the door. Outdoor fun and action: Look forward to our new and varied Vitalquelle experiences! Let yourself be surprised and experience our unique Montafon mountain world with us. In winter, 243 kilometers of slopes and an incredible mountain panorama await you.
Feel-good ambience de luxe:
Elegant suites and stylishly furnished rooms, the impressive panoramic view of the mountains, the diverse wellness landscape on more than 1,000 square meters including a large panoramic indoor pool, top service including excellent gourmet cuisine, are the best prerequisites for your dream vacation.
As a family-run business, great value is placed on quality and the sustainable use of resources. The location, the quality, the almost unlimited possibilities for experiences and so much space in the hotel make the Vitalquelle the best choice for your holiday in the Montafon.
Oprema
Balkon/terasa
Soba za nekadilce
Savna
Igrišče
Brezžični LAN
Parkirna mesta
Bazen
Wellness območje
Prikaži vse funkcije
Soba/Stanovanja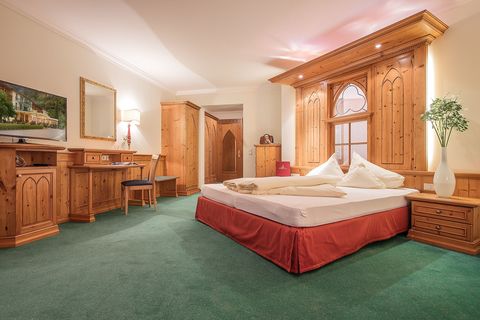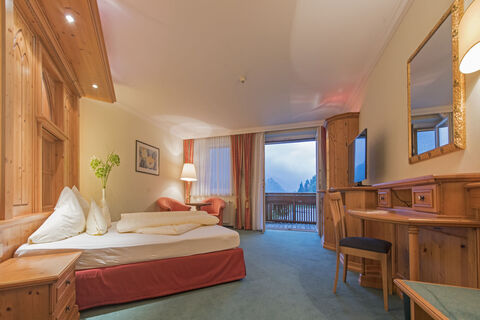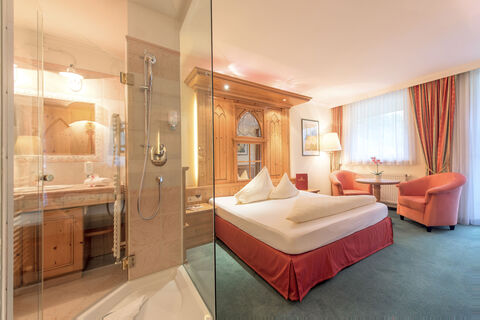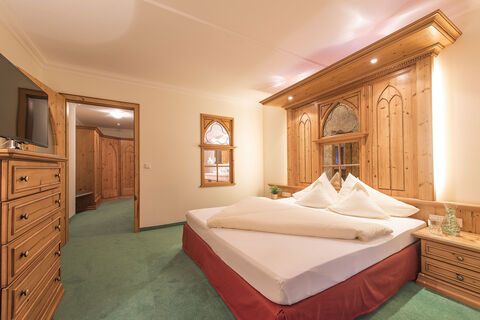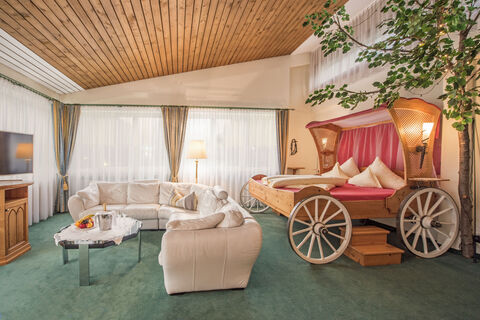 Splošna razpoložljivost
na zahtevo
na voljo
zaprta
pokaži več
Ponudbe Poletje
Wellness / Pavšali užitka / Kratke počitnice
Velja von 15.12.2023 bis 07.04.2024
Cene
Načini plačila
Cash, Debit card, Visa, Mastercard
Opombe
Prices per child and day including 3/4 board in parents' room or suite (2 full-paying adults).
Up to 2 years € 30
3 - 9 years € 75
10 - 16 years € 90
*Single with children
Together with an adult in a "Single Room Classic", children receive the reduced children's rate depending on their age.
Hotel

90 Betten, 45 Soba

Familie Ewald Netzer

Außerlitzstraße 80, 6780 Schruns
Najbolj priljubljena smučišča