Tek na smučeh
Alt St Johann-Wildhaus/Toggenburg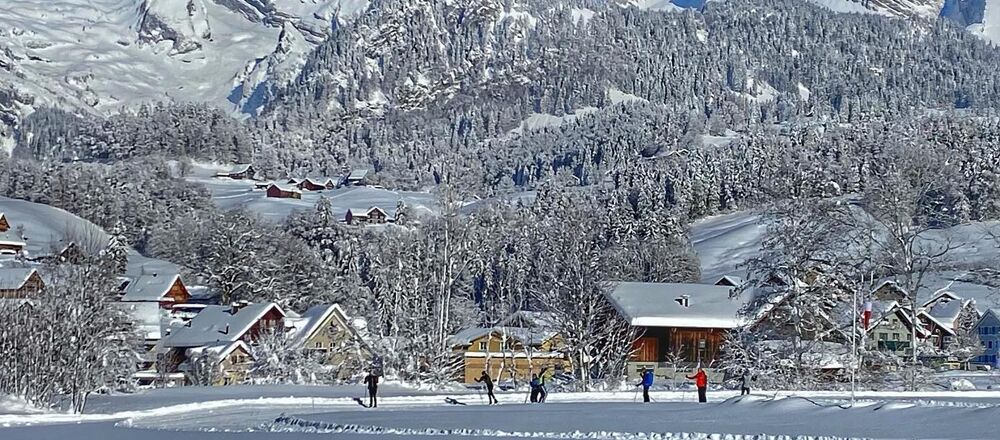 Samstag 09.12.2023, leicht bewölkt Nachtloipe Di, Do, Fr, Sa bis 21.30 Uhr
Trenutno delovanje: dnevno
Countless cross-country ski runs through quiet forests, on panoramic plateaus or in challenging, hilly terrain, and all this spread over the entire region, will delight cross-country skiers. Both classic cross-country skiers and skaters will find their preferred terrain and can indulge their pleasure on illuminated pistes into the night.
The Swiss cross-country skiing school Toggenburg offers, among other things, taster courses for beginners, re-entrepreneurs and advanced skiers.
We will be happy to advise you on individual cross-country skiing lessons. Individual lessons, private lessons, groups, companies, clubs, be it during the day or in the evening on the night trail.
In Alt St. Johann towards Unterwasser there is a heart cross-country trail signposted in flat terrain. This route is also ideal for beginners.
More information at: www.loipen-toggenburg.ch or www.toggenburg.org
*Current snow reports can be found at: *
---
Cene
Langlaufpass Schweiz Fr. 160.00
Langlaufpass Toggenburg Talloipen Alt St. Johann-Unterwasser-Wildhaus Fr. 60.00
Wochenkarte Fr. 35.00
Loipenticket Fr. 10.00
---
Postajališča za osvežitev
Wildhaus / Unterwasser / Alt St. Johann / Sellamatt Berggasthaus Sellamatt und Zinggen Pub
---
Aktualne informacije o tekaških progah
Spletna stran

E-Mail

Telefon

0041 71 999 17 60
Diverses
Wildhaus: Beat Sport/Karl Alpiger Sport/Skiservice-Center//Alt St. Johann: Karl Alpiger Sport
Smuči za tek na smučeh Storitev
Skiservice-Center Wildhaus und in allen örtlichen Sportgeschäften

Pišite na
Turistični urad
Toggenburg Tourismus
Naslov

Hauptstrasse 104, CH-9658 Wildhaus

Telefon

+41 (0)71 999 99 11

E-Mail

Homepage
Najbolj priljubljene regije za tek na smučeh